For those of you who don't know us regularly, Donald and I are HUGE low-carb and paleo fans. Our main diet is primal meaning no grains, no unnatural sugars, no legumes, and only fermented or raw dairy like yogurts or raw milk. My dad is also a diabetic, so sugar in general is out at our house.
So I needed to find ways to create desserts for this dietary mix of chaos. I present to you……the paleo apple crisp. Let's get right to it. Don't forget to like and subscribe to us on youtube as we walk you through the process of all these delicious recipes from our farm to you 🙂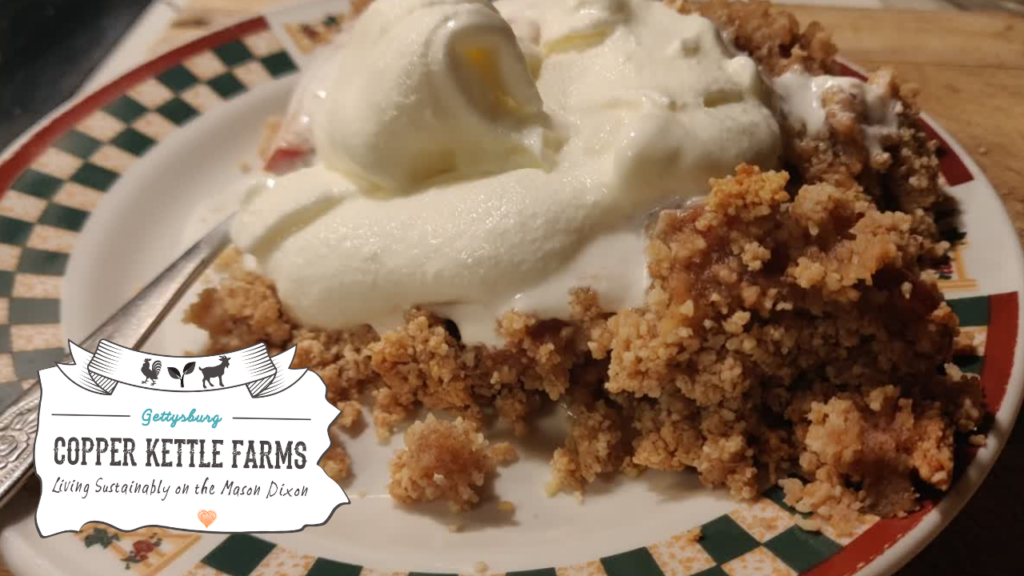 Paleo Apple Crisp
Ingredients
1 ¾

cup

Almond flour or meal

3

tsp

cinnamon

keep one separate

1/2

tsp

nutmeg

1/2

tsp

salt

1/3

cup

melted coconut oil

2

tbsp

honey

3

tsp

vanilla extract

3

whole

apples

any apple is great but tart is good for this

1

cup

unsweetened applesauce
Instructions
Peel, core and slice your apples thin like you would for pie

Place apples in a bowl and set aside

Mix applesauce and 2 tsp of the cinnamon and set aside

Combine the almond flour and 1 tsp of cinnamon, nutmeg and salt

Combine wet ingredients, coconut oil, honey and vanilla extract

Add wet ingredients to the dry ingredients and mix together till crumbly

Sprinkle or crumble the crumble mix over the apples evenly

Cover with foil and bake for 45 minutes until apples are bubbly

Uncover and bake for 5 minutes until the top is brown

Serve with vanilla icecream if you can!
Video