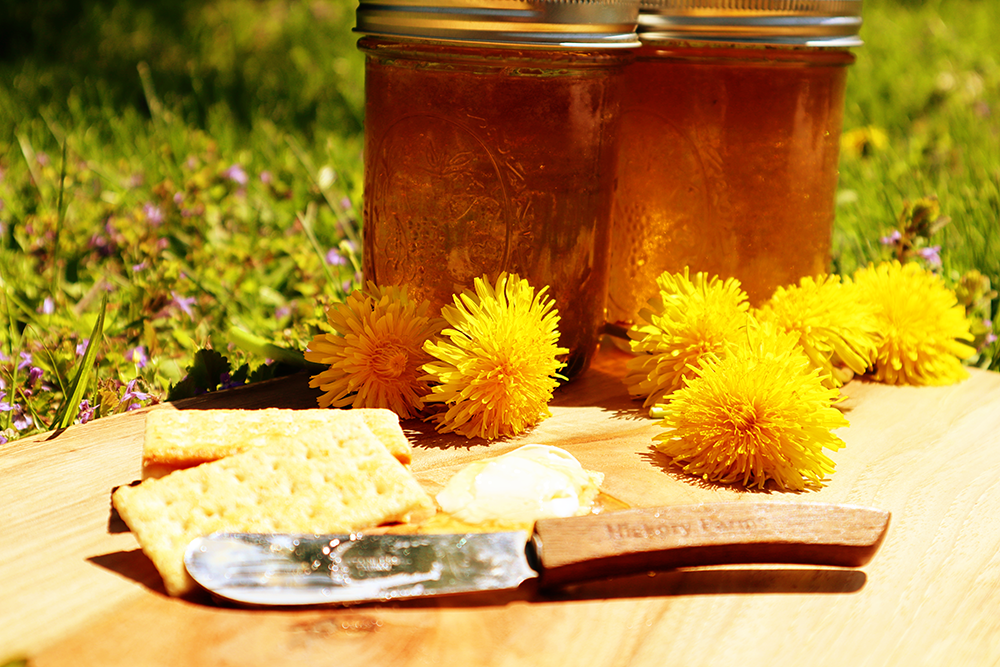 Dandelion jelly is a new experience for me this year. Since I started taking Rosemary Gladstar's course on Herbal Medicine, I've learned so much about wild foraging and the benefits of things that most people just think are weeds.
Did you know that 1oz of dandelion leaves has 25,000 units of Vitamin A? Or that every part of the dandelion is edible and provides massive health benefits? And people think these are weeds! They are a natural powerhouse of nutrition and health that help our liver, hearts, and so many other parts of our bodies.
So what better than to find ways to consume dandelion and continue sharing the knowledge of this amazing plant.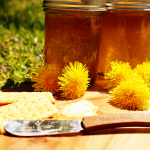 Print Recipe
Dandelion Jelly
Ingredients
4

cups

dandelion petals

2

quarts

water

1

package

powdered pectic

I used 1.7oz Sure Jell

2

tbsp

lemon juice

5 1/2

cups

sugar
Instructions
Remove all green parts of the stem so that you are only left with the yellow petals. This is the pain in the butt part, but worth it to remove any chance of a bitter taste.

Pour boiling water over the petals and let them sit for 24 hours

Measure 3 cups of dandelion liquid (if you have more than that, freeze it and make another batch later).

Add in the lemon juice and pectin and bring mixture to a boil.

Add in the sugar and stir constantly. You'll want the mixture to be at a high boil for 2 1/2 minutes.

Turn off the heat and skim the surface of any debris

Pour into warm processed jars.
A couple notes:
I plan to continue harvesting dandelions until they are gone in June so I can freeze the tea and making dandelion jelly year round. I'll let you know how that turns out.
Some people think you need to add yellow food dye to make this recipe yellow. This is my first batch and it's a beautiful golden color, so I have no idea why people think you need to do this, but you absolutely don't.