Tomato season is upon us, oh how glorious. Time to break out my tomato sauce recipe! I used to be a tomato sauce lover but hated eating fresh tomatoes. That is, until I started growing my own. There's something about a fresh Heirloom Black Krim tomato that tastes like sweet nectar of the earth. Plus, when you grow it yourself, you're more inclined to eat it or find ways to include it in your meals.
As Ron Finley says, If kids plant vegetables, they eat vegetables.
The main thing that is a pain about tomatoes is the process of preserving. I love canning my own sauce, but right now the weather is so damn hot I don't want to mess with it. If only I had a summer kitchen (Bucket List Item: #21). In the later summer months or early fall months I'll probably do some actual canning, or if I run across a cool day sometime soon.
So because of the heat, I've had to find alternative ways to preserve the harvest I am getting now that doesn't heat up my house as well.
Enter the Easy and Versatile Tomato Sauce Recipe!
This recipe can be done in an hour (depending on the amount of tomatoes), and makes around 2 quarts of sauce (give or take). Because of how fast it is to make, you can do it in batches when the tomatoes are ready to pick rather than trying to save up enough tomatoes for a large batch.
The batch is not safe to can (that I know of), so I make it to freeze in quart freezer bags.
Easy and Versatile Tomato Sauce Recipe: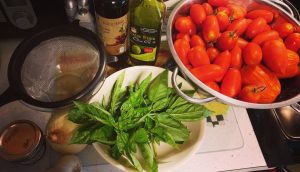 Ingredients:
30 Roma or Amish Paste Tomatoes (give or take)
1 onion, cut in small chunks
12 cloves of garlic
Olive Oil
A bunch of basil leaves (about half a cup)
1 can Tomato Paste (optional)
1 tbsp Balsamic Vinegar
Salt & Pepper to Taste
Preparation:
Pre-heat oven to 425
Cut tomatoes in half and remove seeds. I usually do this over a strainer so the juice is also saved in a bowl (to use some of later)
Place tomatoes, onions, basil leaves, garlic, and about half of the juice in a roaster pan. The juice is just to prevent the tomatoes from burning in your roasting pan
Sprinkle with salt, pepper and drizzle oil over entire pan
Mix with a spatula to cover everything together well
Cook in the oven with no lid for about 35 minutes
Remove from oven and pour everything into a large mixing bowl
Add balsamic vinegar
Use an immersion blender to blend into a sauce (I use this one – affiliate)
You're done!
Look how beautiful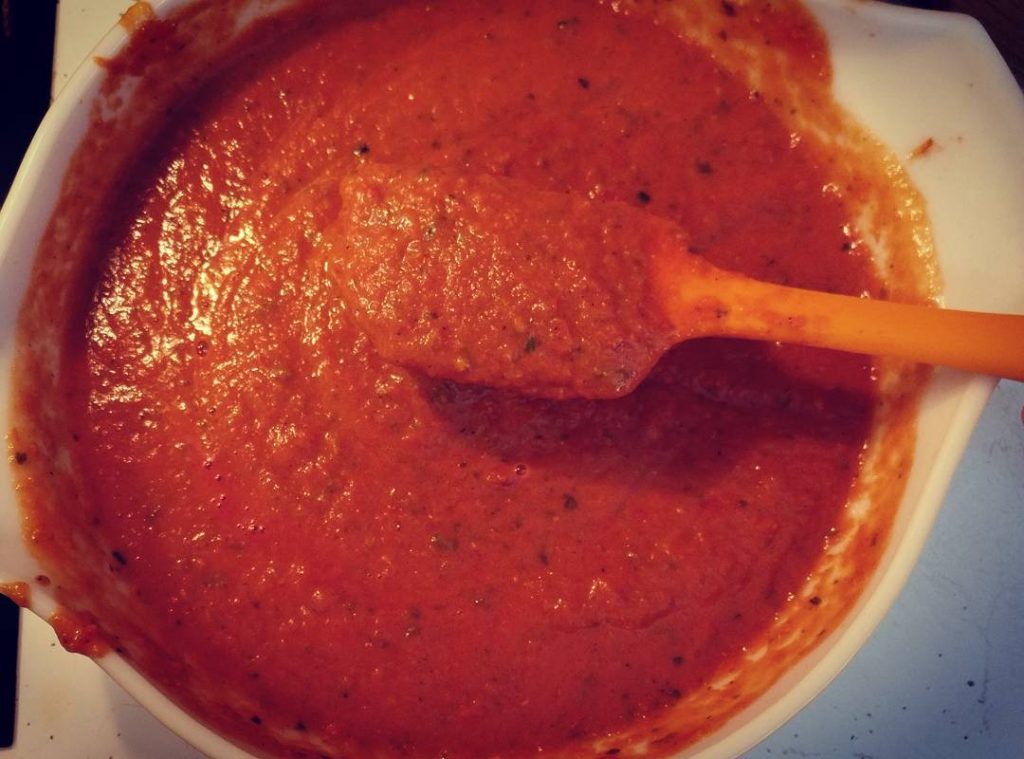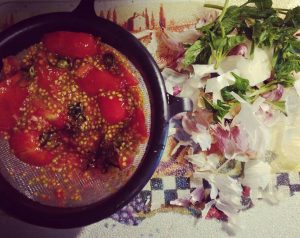 The seeds and extra juice I usually give to our chickens to boost their diet. The scraps of basil, garlic and onion I save in a separate freezer bag to use with bones to make bone broth when available. Never waste 🙂